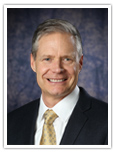 STEPHEN STIENEKER
Executive Vice President and General Counsel
Stephen Stieneker joined Kroenke Sports & Entertainment in 2005 as Vice President and General Counsel. He was promoted to Senior Vice President in 2011 and to his current position in 2013.
During his time with the company, Stieneker has managed the legal affairs of KSE and its family of sports teams while also working closely with several other Kroenke-owned businesses. He played a crucial role in KSE bringing the 2008 Democratic National Convention to Denver and Pepsi Center; opening 1st Bank Center; acquiring The Outdoor Channel and World Fishing Network; and brokering the deal for the Pepsi Center's new state-of-the-art center hung scoreboard. Stieneker also oversees KSE's Human Resources and Risk Management departments.
Stieneker holds a BS in Economics from Virginia Tech and a JD from the University of Virginia School of Law. Prior to joining KSE, he worked for Janus Capital Group as Assistant General Counsel, Vice President of Public Affairs and Chief Administrative Officer of Investments.
He resides in Denver with his wife and three children.