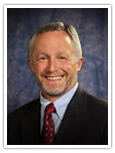 JIM MARTIN
President and CEO
Jim Martin became President and CEO of Kroenke Sports & Entertainment in November of 2010. Martin oversees KSE business and venue operations. KSE owns and operates the Denver Nuggets, Colorado Avalanche, Colorado Rapids, and Colorado Mammoth professional sports teams, the Pepsi Center, Dick's Sporting Goods Park, and Paramount Theatre sports and entertainment venues, the Altitude Sports & Entertainment regional television network, the Outdoor Channel, as well as various additional affiliated and related businesses.
Martin first joined Kroenke Sports as President of Altitude Sports & Entertainment following successful stints at a number of major media companies. In the mid-1990s, he was the first Chief Operating Officer of FOX Sports Net, overseeing all aspects of that network's launch and operation. He was subsequently promoted to Executive Vice President, Head of Business Operations for FOX/Liberty Networks, which built, owned and operated a number of regional and national sports and entertainment television networks.
Prior to joining FOX, Martin was President of Regional Network Operations for Liberty Sports, managing Liberty Media Corporation's owned-and-operated regional networks and other sports network investments. Martin was Vice President and Chief Operating Officer of Liberty Media Corporation from 1991 through 1994.
A 1977 graduate of the University of Wyoming with a Bachelor of Science degree in Accounting, Martin graduated from the University of Notre Dame Law School in 1980. Martin currently serves on the Gold Crown Foundation and the Visit Denver Board of Directors. He also serves on the Arsenal Broadband board. Martin and his wife have four grown children and are long-time Colorado residents.