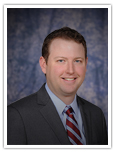 DAVID BURKE
Senior Vice President and Chief Ticketing Officer
Burke joined KSE in 2013 and has been instrumental in enhancing the fan ticketing experience while also helping to bring the 2015 Major League Soccer All-Star Game to Colorado this summer and the 2016 NHL outdoor game against the rival Detroit Red Wings to Coors Field.
Burke is responsible for developing and implementing ticket sales and service strategies, and managing ticket operations, for all of KSE's professional teams, including building and developing department staff and structure.
Prior to joining KSE, Burke was President of the Houston Aeros, the American Hockey League affiliate of the NHL's Minnesota Wild, where he was in charge of day-to-day business operations. From 2007 to 2011, prior to working for the Aeros, Burke was Vice President of Ticket Sales and Service for the Phoenix Coyotes and Jobing.com Arena, where he managed all luxury suite sales, premium seat sales, and ticket sales and service for the Coyotes and their arena. He also served as Director of Season Ticket Sales for the NBA's Charlotte Bobcats, who ranked in the league's top five in new season tickets sales in 2007.
Raised in Houston, TX and a graduate of the College of Charleston, Burke began his work in professional sports in 2003 with the Dallas Stars, later joining the New Orleans Hornets and helping the club through its temporary relocation to Oklahoma City after Hurricane Katrina."